Project Team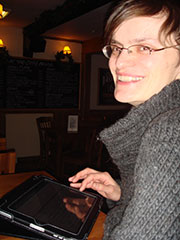 Hilde De Weerdt
Professor of Chinese History 
Principal Investigator
Hilde De Weerdt is broadly interested in Chinese political culture and intellectual history, comparative history, and the digital humanities. She is the author of Competition over Content: Negotiating Standards for the Civil Service Examinations in Imperial China (1127-1276) (2007) and co-editor of Knowledge and Text Production in an Age of Print--China, Tenth-Fourteenth Centuries (2011). She constructed the database Song Biji in Print and marked up Wang Mingqing's 王明清 (1127-?) Huizhu lu 揮麈錄 (Waving the Duster) in 2009-2010. This and other ongoing work on the project will be incorporated in a new book titled Information, Territory, and Elite Networks: The Crisis and Maintenance of Empire in Song China.
Phase II members
Research Associate
Research Assistant, Leiden University (2014~)
Research Assistant, King's College London (2012~2013)
Phase I members
Recent blog posts
International Medieval Congress 2015 by mchu, July 30, 2015, 3:11 p.m.
Team members Hilde De Weerdt, Chu Mingkin and Julius Morche contributed to the panel "Historical Knowledge Networks in Global Perspective" ......read more
MARKUS update and new tools by hweerdt, March 12, 2015, 6:38 a.m.
The MARKUS tagging and reading platform has gone through a major update. New features are ......read more
Away day for the "State and society network" at LIAS by mchu, Dec. 5, 2014, 12:40 p.m.
Team members Hilde De Weerdt, Julius Morche and Chu Ming-kin participated in the Away Day of the "state and society ......read more
Recent Tweets