This site hosts the activities of and provides access to the results of a collaborative project on Chinese and comparative history. Moving beyond the comparison of early world empires (like Han China and Rome) to explain the different course Chinese and European history have taken, this project assesses the importance of political communication in the maintenance of pre-nineteenth century states.
Through a systematic quantitative and qualitative analysis of notebooks and correspondence (sources that best convey individuals' engagement with politics), the research team aims to bring to life the networks through which political information circulated among provincial elites. The use of biographical databases, historical geographic information systems (GIS), social network analysis (SNA), and digital text and linguistic analysis to map and measure the spread and contraction of political information is experimental, and fits into a larger attempt to develop multi-dimensional analytical and visualization tools for the humanities.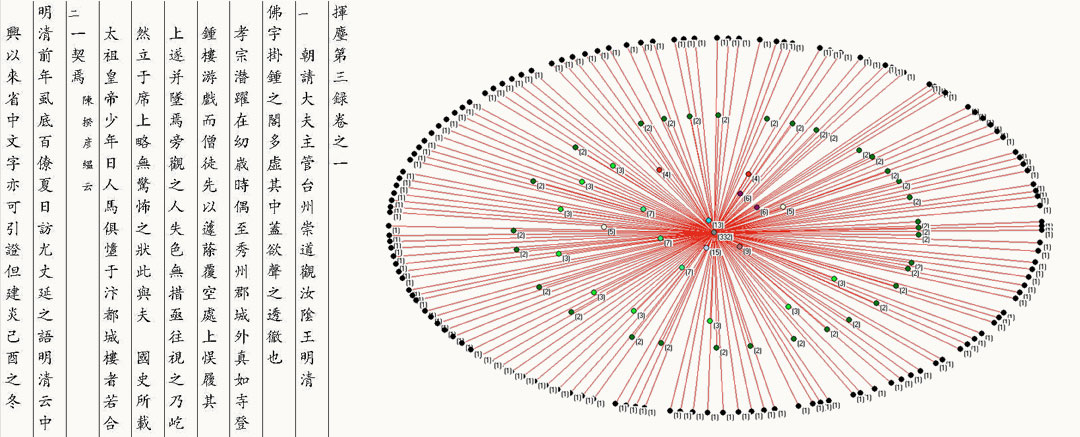 Initially, (2010-2011) the project was funded by the British Academy, the John Fell Oxford University Press Fund, and The Max Planck Institute for the History of Science ("Mapping Knowledge Transmission through Citation Patterns in Notebooks"). Since 2012 the project has been funded by the European Research Council ("China and the Historical Sociology of Empire"). This generous grant funds a team of three post-doctoral fellows in Chinese and comparative history and in the digital humanities, a series of workshops and conferences, the development of online research tools, and electronic and print publications.
The project objectives and team are described under PROJECT.
The database of notebooks printed during the Song Dynasty (960-1276), the first output of the project, can be searched, analysed, and downloaded from the ANALYSIS section.

A sample bilingual translation (a policy question and essay on monetary policy written in 1235) and a bibliography on notebooks/biji are the only texts that are currently included in the REFERENCE section
Recent blog posts
International Medieval Congress 2015 by mchu, July 30, 2015, 3:11 p.m.
Team members Hilde De Weerdt, Chu Mingkin and Julius Morche contributed to the panel "Historical Knowledge Networks in Global Perspective" ......read more
MARKUS update and new tools by hweerdt, March 12, 2015, 6:38 a.m.
The MARKUS tagging and reading platform has gone through a major update. New features are ......read more
Away day for the "State and society network" at LIAS by mchu, Dec. 5, 2014, 12:40 p.m.
Team members Hilde De Weerdt, Julius Morche and Chu Ming-kin participated in the Away Day of the "state and society ......read more
Recent Tweets