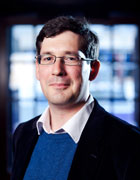 Bernard GOWERS
Research Assistant
Bernard Gowers is a historian of medieval Latin Europe. His doctoral thesis was on Bishop Fulbert of Chartres (died 1028) and his circle of students, who were significant intellectual and ecclesiastical figures in eleventh-century West Francia. His work for Communication and Empire: Chines Empires in Comparative Perspective examines networks of educated churchmen with intellectual and political roles (the so-called literati), ranging across western Europe from the eleventh to thirteenth centuries, and in particular their letter-writing.
Recent blog posts
International Medieval Congress 2015 by mchu, July 30, 2015, 3:11 p.m.
Team members Hilde De Weerdt, Chu Mingkin and Julius Morche contributed to the panel "Historical Knowledge Networks in Global Perspective" ......read more
MARKUS update and new tools by hweerdt, March 12, 2015, 6:38 a.m.
The MARKUS tagging and reading platform has gone through a major update. New features are ......read more
Away day for the "State and society network" at LIAS by mchu, Dec. 5, 2014, 12:40 p.m.
Team members Hilde De Weerdt, Julius Morche and Chu Ming-kin participated in the Away Day of the "state and society ......read more
Recent Tweets